There are so many names for this stuff: puppy chow, muddy buddies, reindeer food… The list goes on and on.  I like to call it crack because it's so dang addicting. I had never heard of puppy chow until I lived with Heather in college (her blog here).  She is the puppy chow queen!
Most puppy chow is made with peanut butter and chocolate, but I wanted to spice things up for the upcoming fall season.  Other than pumpkin, my most beloved flavor in the fall is caramel. (I'm basic.) I need to combine the two for a recipe ASAP.
For this recipe, I made homemade salted caramel, but it could easily be replaced with salted caramel ice cream topping (like this one). Homemade salted caramel makes me weak in the knees. It can be kind of tricky, but so worth it.  I like this salted caramel no only on this puppy chow but on apples, cakes, brownies, and even by the spoonful!
To complement the salted caramel in this puppy chow, I mixed in some white chocolate.  White chocolate and salted caramel go great together.  I used Nestle White Chocolate Chips, but white chocolate chunks, candy melts, or baking bars would work just as well.
Puppy chow is nothing without it's powdered sugar coating. I threw my caramel and white chocolate covered Chex into a large Ziploc bag and shook it up to get each piece evenly coated.  If you're baking with kids, they would love doing this part! I refrigerated my puppy chow, but it is not needed.  You can dig right in to the puppy chow as soon as the powdered sugar is coated on top.  Be careful, you won't be able to keep your hand out of the bowl!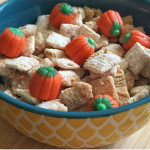 A twist on classic puppy chow! Corn chex covered in homemade salted caramel and white chocolate and coated with powdered sugar.
| | | |
| --- | --- | --- |
| | | A twist on classic puppy chow! Corn chex covered in homemade salted caramel and white chocolate and coated with powdered sugar. |
To make the caramel, pour sugar into medium sized saucepan on medium heat. Constantly stir the sugar with a rubber spatula until it becomes a liquid and nice amber color. Be careful not to burn!

Add butter to the liquid sugar and continue stirring. Be careful not to burn yourself, because the caramel will bubble and splash up.

When the butter is melted and combined, slowly pour in the heavy cream. Again, be extremely careful because it will splatter up and can potentially burn you.

After the heavy cream is added, stir and let boil for one minute. Stir in salt. Set sauce pan aside to cool for 10-15 minutes.
In a microwave safe bowl, add caramel and white chocolate chips. Microwave in intervals of 30 seconds until chocolate chips are melted and combined with the caramel.

In a large bowl, stir together the caramel-chocolate mixture with the corn chex. Try to evenly coat each Chex piece.

In a large Ziploc bag, pour in caramel covered Chex and powdered sugar and shake until each piece of Chex is covered with the powdered sugar. Add sprinkles, candy corn, or other mix-ins for a festive looking treat. Refrigerate for 1-2 hours to allow everything to harden, if desired. Enjoy!