Happy National Eat a Peach Day!  What better way to eat a peach than in a peach pie?! Plus it's a healthy way to get your fruits for the day…. am I right?
Peach pie is the epitome of summer desserts. This is a classic, no frills peach pie with just peaches, sugar, flour, and a whole lotta butter.
I used to be terrified of making pies because I thought pie crust was way too difficult to make and I thought I needed some fancy tools to make it look nice.  Boy, was I wrong!  This pie crust is SO EASY  and you can use your hands to make it.
The most complicated part of the filling is peeling the darn skins off of the peaches.  One way to do it is to cut an "X" on the bottom of the each peach, bring a pot of water to a boil, place the peaches in for a minute, and then plop the peaches into a bowl of ice water.  The skins should peel right off!  You could just use a potato peeler to peel the peaches, but this saves more of the peach.  I know when I peel fruits and vegetables with a peeler, I always take off more than just the skin.
This filling has the flavors of cinnamon, nutmeg, vanilla, and a hint of lemon.  It's so simple and so tasty. The peaches create a sweetness that would be sure to satisfy anyone's sweet tooth.  Corn starch is absolutely necessary in this filling because it thickens up the juiciness of the peaches.  If it is omitted there will be way too much liquid in your pie, therefore making the crust soggy (and nobody wants a soggy pie crust).
The all butter crust is flaky and is the perfect complement to the juicy peaches.  Ice cold water and cold butter are a must! Warm water and room temperature butter will ruin your pie crust.  If you use room temperature ingredients, you will end up with a dry, non-flaky crust.  When rolling out the dough, it is ok if you see spots of butter.  In fact, I believe that those spots of butter make your crust even more flaky and flavorful!
The pie bakes in the oven for a total of 50-55 minutes.  It starts off at a high temperature to ensure that the filling gets nice and cooked, but then is lowered so that the crust doesn't get overly browned.
The end result of this pie is pure deliciousness.  Each bite of this pie has so much texture and flavor.  Juicy peaches and a flaky crust – this pie is calling your name!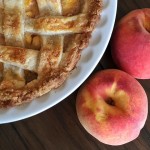 A classic all butter pie crust filled with juicy peaches and cinnamon. Goes great with a scoop of vanilla ice cream!
Servings

Prep Time

8

slices

1.5

hours
Servings

Prep Time

8

slices

1.5

hours
A classic all butter pie crust filled with juicy peaches and cinnamon. Goes great with a scoop of vanilla ice cream!

Servings

Prep Time

8

slices

1.5

hours

Servings

Prep Time

8

slices

1.5

hours
Mix flour, sugar, and salt in a large bowl.

Cut cold butter into cubes and toss into flour mixture. Using your hands or a pastry blender, combine the butter with the flour mixture until it looks like little pea sized bits.

Slowly pour the ice water into the butter-flour mixture. I did about 1/4 cup at a time. Too much water will make your dough too sticky. I incorporated the water in with my hands, but a wooden spoon would work too.

Transfer the dough onto a floured surface and knead the dough until all the flour is incorporated. Break the dough into two equal discs and wrap with plastic wrap. Refrigerate for at least 1 hour.

After dough has been refrigerated, roll out one of the discs of dough into a large circle on a floured surface. When the dough has been rolled out, place into a pie dish and tuck in the crust with your fingers. If there is overhang on your crust, cut it off with a knife.
Preheat oven to 450°F. Peel and cut peaches using a peeler or the boiling/ice method as mentioned above.

Place peaches in a large bowl and toss them in the vanilla and lemon.

In a separate bowl, whisk the flour, corn starch, sugar, cinnamon, nutmeg, and salt.

Add flour mixture in with the peaches and coat evenly. Pour the peach filling on top of your pie crust.

Cube butter and place on top of peach filling
Remove other dough disc from refrigerator. Roll the dough out on a floured surface aiming for a more rectangular shape this time.

With a ruler and a pizza cutter, cut ten 1/2 inch strips of dough, all measuring 10 inches long.

Weave strips over and under one another to make a basket weave type pattern. Cut the overhang off the edges of the pie dish. Press together the edges of your dough.

Beat an egg. Brush the egg on top of the dough and sprinkle with coarse sugar.

Bake pie for 10 minutes at 450°F. After 10 minutes, rotate your pie, and decrease oven temp to 375°F. Bake at 375°F for 45-50 minutes. If crust starts getting too brown, cover with aluminum foil, or use a pie shield.

Remove pie from oven and let cool on a wire rack. Cut a slice, scoop some ice cream, and enjoy!